A special thank you to our supporters; Ark Antiques who without them we would not have the means to get all of the heavy gear out to rescue sites.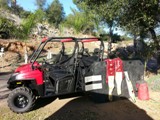 The continuing support of the Animal Trust Foundation and the Ramona Kiwanis.
A big Thank You to Brandon Winbigler pursuing his Eagle Scout rank with the Boy Scouts of America. Brandon chose us for his project and we now have a beautiful holding cage for raptors.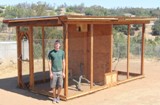 And a large debt of gratitude to a special lady "Wendy." Who allowed me to experience those lil guys. One of the best times I've ever had. Thank You.